State Dock Marina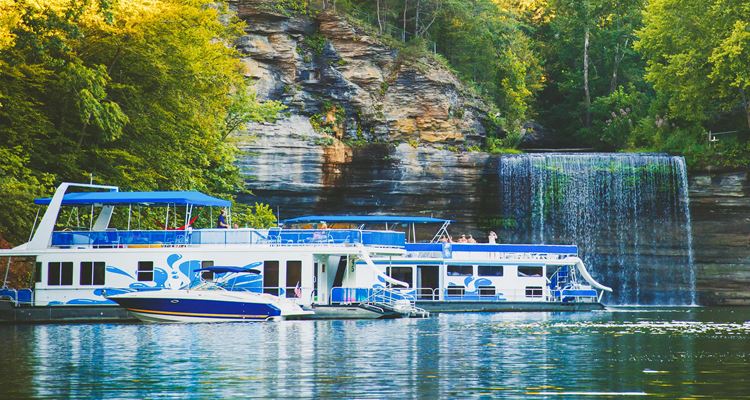 About
State Dock Marina is a prized jewel in Kentucky. Nestled along the shores of Lake Cumberland, the houseboat capital of the world. With 1,200 miles of shoreline, astounding waterfalls, and countless secret coves are awaiting you. Time just melts away when you're here. Spend your vacation cruising, skiing, fishing or just living the good life on board a custom houseboat from State Dock. Houseboating with friends and family on Lake Cumberland, Kentucky will provide countless memories to last a lifetime. Our vacations are perfect to reconnect with family and friends... every generation will find something that resonates with their idea of a really fun vacation. Thousands of satisfied houseboaters visit State Dock each year. It's no wonder we offer a unique vacation experience found nowhere else. We want to give back to our customers by making ongoing improvements to our fleet. Come and enjoy our renowned southern hospitality and luxurious houseboats - we're known for the best in the country!
Amenities
Deck Cruiser / Pontoon Rental
Diesel
Gasoline
Golf Course Nearby
Kayak Rental
Launch Ramp
Laundry Facilities
Marine Store
PWC Rental
Picnic Area
Powerboat Rental
Pump Out
Restaurant
Security
Showers
Tubes / Other Towables Rental
Water Taxi
WiFi
Winterizing
See what's happening at the marina today!
EVENTS
Quick Facts
Listing
Near: 2 hours from Nashville and Louisville
Biggest Event: Lake Cumberland Poker Run
We are seasonal
Other: When we are at full pool we have several islands and 13 waterfalls on the lake.
See Rentals
Houseboat slip rentals
Houseboat rentals